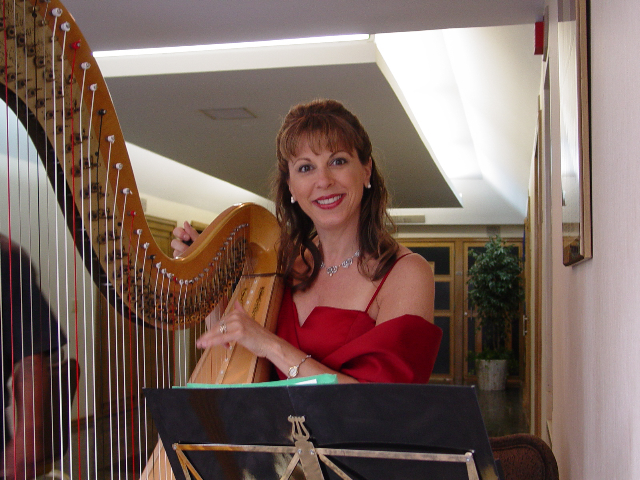 GLORIA GALANTE HARPIST

Phone: 610-436-2653 | ggalante@wcupa.edu | Education
B.S., West Chester University; M. M., Vander Cook College of Music, CMP
certified Music Practitioner - www.MHTP.org

To see Gloria Galante is to be galvanized by the infinite magic of possibility. Indeed, this petite dynamo is a chameleon harpist She plucks, strums, jizzles and practically dances on those strings to create almost any kind of music her audience desires- classical, jazz, Latin, African, and pop. Galante has performed with Jose Feliciano, Diana Ross, Frank Sinatra, Jr., and Luther Vandross, just to name a few. She has toured internationally as a solo artist, chamber musician, and member of jazz and Afro- Cuban ensembles, currently with Odean Pope Tenor Sax and Gloria Galante Harp-Duo as well as Kusangala with Bassist Tyrone Brown, Percussionist Duke Wilson, Drummer Jim Miller, and vocalist Rosella Clemmons Washington .

Gloria has released 30 recordings and produced 2 therapeutic harp CDs raising funds for the Susan G. Komen Breast Cancer foundation research for the cure.

She is a certified music practitioner CMP from the Music for Healing and Transition program and a mentor for this program. Currently, Gloria is working on a CMP medical research project.

In addition to performing, Gloria Galante is a composer of works and transcriptions for harp, and is equally dedicated as an educator. Galante is the professor and creator of the harp program at West Chester University (WCU), Director of the WCU Harp Ensemble, a Musicopia (formerly Strings for Schools) ensemble leader, and on the prestigious roster of the Pennsylvania Council on the Arts. Finally, Galante has been a member of the American Harp Society and Folk Harp Society since 1986, contributing many articles to their journal.

Visit her professional web site at www.gmgstudios.com

GALANTE, GLORIA articles written by GGalante/Folk Harp Journal
"Fred Vandenberg and the New World Ensemble" (with harpist Gloria Galante) 1997, Spring, No. 95, Page: 56
Gloria Galante: making her harp sing around the world 1991, Fall, No. 74, Page: 63
Harp Hands in Japan 1986, Winter, No. 55, Page: 51
Galante, Gloria The Gift of Harp...Creative Cookie 1986, June, No. 53, Page: 19
The Golden Dream - Aoyama Harps 1986, June, No. 53, Page: 27
Harp Hands in Japan 1986, Winter, No. 55, Page: 51
The Harp in the Schools Performance Program 1988, Spring, No. 60, Page: 47
In Mi Viejo San Juan 1987, Fall, No. 58, Page: 37
Maria Rosa Vidal 1991, Spring, No. 72, Page: 39
Maria Rosa Vidal - Consul of Harpists in Puerto Rico 1985, September, No. 50, Page: 44
Martha Clancy 1987, Summer, No. 57, Page: 55
My Worst or Most Unusual Gig 1990, Fall, No. 70, Page: 76
The Name That Inspired Jazz Harping- Alice Coltrane 1994, Spring, No. 83, Page: 19
The Shepherd Harp Healer: Sarajane Williams 1996, Spring, No. 91, Page: 43
Una Vida en Contrapunto - A Life in Counterpoint 1988, Summer, No. 61, Page: 16

Gloria Galante
Professional Harpist
Teaching Artist of the Pennsylvania Council of the Arts
CMP certified music practitioner
www.gmgstudios.com
ggharp@comcast.net
215-342-9397
NAS Psalm 144:9 I will sing a new song to Thee, O God; Upon a harp of ten strings I will sing praises to Thee.
Professor Gloria Galante has studied with the Philadelphia Orchestra's premiere harpist, Edna Phillips, winning the matinee musical award at age 18. Ms. Galante has performed with the Symphony of Puerto Rico, Jose Feliciano, Diana Ross and the Supremes 2000 tour, Luther Vandross, Tyrone Brown, Odean Pope, Cecil Bridgewater, Luther Vandross, Sun Ra Arkestra and the Frank Sinatra, Jr. Orchestra. She has concertized extensively as a soloist, and chamber music in Japan, Canada, Australia, Puerto Rico, and in the United States Gloria Galante had the high honor of performing for several Presidents of the United States. She is an active performer in both classical and jazz idioms. She was the opening artist for the 1995 Lyon and Healy Jazz Festival in Arizona.
Gloria performed in several film scores. Her discography includes 20 recordings. Among the latest is the compact disc with Tyrone Brown called Brown and Galante. The Gloria Galante trio with Odean Pope was aired on "Crossovers" radio program on WRTI FM. Gloria produced 2 cds- Music for the Soul and Music for the Soulstice Millennium featuring 21 harpists (pioneers who use the harp in a therapeutic setting) heralding a new era as well as raising money for the Susan G. Komen Breast Cancer Research.
Galante is the (1995-1997) past president of the American Harp society-Philadelphia Chapter and the past editor of the American String Teacher Association. Ms. Galante is a composer of works and transcriptions for the harp. She developed the West Chester harp program including the WCU harp trio, ensemble and annual harp festival (15 to 10 harps).
"The harp is to music what music is to life" C. Salzedo

New Recording ***Tenor Sax and Harp with Odean Pope, available at the www.gmgstudio.com CD Store or call 215-342-9397