I'm Yours, You're Mine
Betty Carter

Verve Records

---

The Carmen McRae/Betty Carter...
Carmen McRae & Betty Carter

Verve Records

---

I Can't Help It
Betty Carter

Impulse! Records

---

The Audience With Betty...
Betty Carter

Verve Records

---

Look What I Got
Betty Carter

Verve
Knight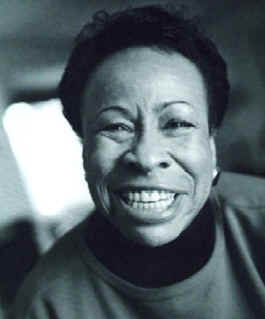 Betty Carter was born Lillie Mae Jones in Flint, Michigan, on May 16, 1930. At a young age, she began the study of piano at the Detroit Conservatory of Music, and by the time she was a teenager she was already sitting in with Charlie Parker and other bop musicians when they performed in Detroit. After winning a local amateur contest, she turned professional at age 16, hooking up with the Lionel Hampton band by 1948, billed as Lorraine Carter. Hampton was the man who hung the nickname 'Betty Be-Bop' on her (a nickname she hated, as she found bebop limiting and wanted to do more than just scat), but it stuck, and ultimately she changed her stage name to Betty Carter. At the age of 21, she traveled to New York with the Hampton band and set up home there.
Betty spent the early 1950s as a singer with different group. She did several shows at the Apollo, playing with such notables as Max Roach and Dizzy Gillespie, toured with Miles Davis in 1958 and 1959, and spent much of the rest of the time on the outskirts of the jazz scene. Her refusal to adopt a more "mainstream" jazz style led to difficulty in finding bookings and making recordings. She made her first recordings in 1955 with a then-unknown piano player named Ray Bryant. The album, Meet Betty Carter and Ray Bryant, was little received, and her second set of recordings, with the Gigi Gryce band in 1956, languished unpublished until 1980.
By 1958, she was ready to record again, and another little known album, I Can't Help It, was the result, followed closely by a recording on the Peacock label (a Texas gospel label), Out There. She was developing a reputation as a fiercely independent woman (an attitude she developed based in part on her interactions with Gladys Hampton, Lionel's no-nonsense wife) and a devoted jazz singer, and her popularity among the inner jazz circles was high, but critical and popular acclaim eluded her. She was becoming well-known for her signature style that combined off-beat interpretations of classic tunes and wild scat-singing that never seemed to find the right beat. Even a move to the ABC label for her 1960 album The Modern Sound of Betty Carter did little to help that. She needed a break, and it came in the form of Ray Charles.
Ray Charles, on a recommendation from Miles Davis, agreed to take Betty on tour with him in the late 1950s. Enchanted by her voice and looking for a partner to record a series of duets, he enlisted Ms. Carter in a project that became Ray Charles and Betty Carter. The album, recorded in 1961, became an instant critical and popular smash; the single Baby It's Cold Outside gave Betty her first introduction into the popular music scene (indeed, at the 1997 White House ceremony where President Clinton presented Ms. Carter with a National Medal of Arts, the President said, "Hearing her sing 'Baby, It's Cold Outside' makes you want to curl up in front of the fire, even in summertime."). The sessions took on almost legendary status; after fifteen years in the business, fame had found Betty Carter. More. . .
Carter died on September 26, 1998