Disco diva works "Hard for the Money''
BY JOAN CARTWRIGHT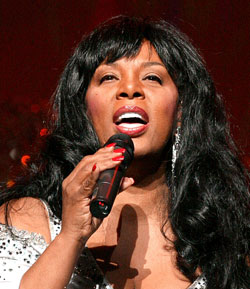 Donna Summer is an American Diva who, like her Disco-era hit singles, works Hard for the Money with Hot Stuff!

She's adored by fans and, after attending her concert at the Sinatra Theater of the BankAtlantic Center in Sunrise on Feb. 16, I love La Diva Donna, too!

Summer is the first African-American ever to win a Grammy award for rock, in the Best Female Rock Vocal Performance category for the single, "Hot Stuff.''

On the way in, I met four men in Afro wigs, two white and two black. I asked them why they were there, and they said, "We were with Donna in the beginning and we'll be there with her until the end.''

Someone else said, "Disco is coming back around. Ms. Summer was there at the very beginning and she'll be there at the end.''

So Summer, a five-time Grammy Award-winner, is the Alpha and Omega, Queen of Disco, the dance craze that took over the world in the '70s, particularly, in Holland, France and Belgium.

The Peter Graves Orchestra, comprising strings, horns, percussion, drums, bass and lead guitars opened the show with a revue of Summer's hits. Two background singers were there, Summer sister Mary Bernard and Yvonne.

Yens Wenklebough played trombone and is musical director for Summer, who appeared, seemingly out of thin air, in a gorgeous, beaded white gown. She was under a huge glass menagerie, commonly known as a disco ball, and standing on top of a white grand piano in the shape of a chaise lounge.

Go, Diva, go!

She opened with "McArthur Park'' to a screaming audience that sang the words, "someone left the cake out in the rain and I don't think I can take 'cause it took so long to make it and I'll never have that recipe again, oh nooooo!''

Well, I couldn't agree with her because her recipe was working wonders. After the next two songs, "After All The Loves Of My Life'' and "This Time,'' Donna spoke about her newest recording in 17 years. Then, she sang the '80s hit, "This Time I Know It's For Real.''

She said that each time she comes onstage she becomes something new. This was the last show of the tour that started last year at this same venue. On the way out, I met a couple who was at the first show of the tour, and they said she was just as good at the beginning of the tour as she was at this last show. "She Works Hard For The Money'' is an understatement.

Donna's show was non-stop with beautiful segues. She talked about getting older and being a grandmother, then sang, "With A Little Help From My Friends,'' another song we all sang. Then she called for three volunteers and two women and a man named Marco came up to sing "On The Radio,'' one of Donna's most famous songs. Donna noted that the three of them were "ethnically challenged,'' but Marco had us in stitches with his disco dancing.

"This is a dance party!" Donna exclaimed, before singing a song she wrote for an album by the same name, "Once Upon A Time,'' dedicated to her daughter. She has at least 11 albums to her credit.

Then, she sang "A Natural Woman,'' reminiscent of Aretha Franklin. Donna's voice was clear as a bell and we hung on each note. Her success at the age of 59 goes to show that real talent is everlasting. She's come a long way from being a background singer with the band Three Dog Night. The mother of three girls, Donna continues to broaden her fan base.

She invited her husband, Bruce Sudano, to play guitar and sing "L'Imagine Cafe,'' while she changed into a tuxedo. That's when the music changed and Donna with Bruce on piano paid tribute to classic jazz composers, singing "The Man I Love,'' "I've Got It Bad'' and "Some Of These Days.''

The music flowed into "The Night Is On Its Way,'' making a smooth segue from the string section. She teased us with snippets of "Love To Love You, Baby'' as the crowd called for more of this hit, but she went into a spiel about seeing a singer on her first TV set when she was only 11 years old, and knowing that was what she wanted to do with her life.

The audience rose when she hit the first few notes of "Bad Girls,'' and I saw the four men in Afro wigs dancing to "Toot toot, hey, beep beep!!''

Finally, in a long black gown, Donna hit us with "Last Dance,'' and to my amazement, an 85-year-old man stood up and pointed to a younger woman to come and dance with him. He was disco-all-the-way. I asked his wife his age and she told me they'd been married for 65 years and he was still in love with Donna Summer and dancing to her music.

What a great way to end a concert. I'm looking out for Donna's new CD and you should too!

Last Updated ( Friday, 22 February 2008 )
EARTH, Wind and Fire: Retro 1969
BY JOAN CARTWRIGHT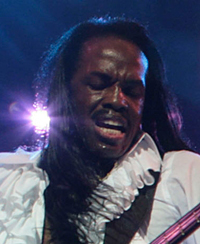 In their fourth decade of making music that unifies music-loving Americans of all races, creeds and colors; and people the world over, Earth Wind and Fire remains one of the tightest, funkiest, most rhythmic bands to grace a stage. People from 11 to 70 were dancing at their seats, in the aisles and at the back of the theater.

Starting with "Boogie Wonder-land,'' Philip Bailey commanded the audience to "stand on your feet!" We obeyed him, shooting straight up and standing during most of this exhilarating retro 70s concert Friday, April 18 at the new Fillmore at the Jackie Gleason Theater in Miami Beach.

Fans sang along on the next hit, "Sing a Song,'' easily demonstrating our knowledge of the lyrics to every tune the "elements of man" brought to our lives.
From "Shining Star'' to "Reasons,'' concert goers were en-grossed in the music that had us jumping in the '70s and, now, has teenagers thrilling to its groove.

Three young girls, Lou (11), Lena (12) and Ilidja (13) are proof that great music stands the test of time. They left the Fillmore smiling, intrigued by the music their mothers shared with them that evening. Light was in the eyes of attendees who poured out of the theater - satiated by EWF's excellent musicianship.

The band has three original members – Verdine White on bass, former drummer turned vocalist Ralph Johnson and lead vocalist Philip Bailey, also on percussion. The group's creator, Maurice White, who is Verdine's brother, was absent from the tour due to a health condition. White's other brother, Fred White, played drums from 1974 to 1983. To date, Verdine remains the only brother on tour.

The members are phenomenal musicians, each bringing a crucial part to the whole. But it's the songs that are golden, even platinum, and we recognized every one.

Verdine lay flat on his back as he plucked his bass to tumultuous applause on "Serpentine Fire.'' Then, with his trademark high energy, threw kisses to the packed house before skipping stage right like a 20-year-old rocker.

Guitarist Morris O'Connor set off the blues during "Deliver the Message,'' a song that assured us that what we considered EWF's purpose 40 years ago is the same today - keep our heads to the sky!

On timbales, Ralph Johnson echoed the congas of Phil Bailey, while Reggie Young gave an incredible trombone solo. The message was delivered!

Reggie Young on trombone, Bobby Burns on trumpets and Gary Bias on tenor sax form the horn section, "rivaled only by the James Brown Band," according to Juanita Hernandez, a concert attendee. This 12-piece musical caravan features Myron McKinley on keyboards and young drummer John Paris, born one year before EWF was formulated.

Famous for his falsetto, Bailey sang lead on "Devotion,'' "Head to the Sky,'' "Reasons'' and "Fantasy.'' Rounding out the group are Bailey's sister-in-law, vocalist Kimberly Johnson, and percussionist and vocalist B. David Whitworth, who joined the group in 1996 (making him the group's forth front man.)

Ambassadors of peace and unity, the group's goal was to "bring theater to Rock & Roll," said Bailey. His assertion that "when it's right, it's real" sums up the value of the music spun by EWF. The group's seventh album, That's the Way of the World, was the most successful release in the band's history, reaching #1 on Billboard 200 and Billboard Top 100 R&B charts.

At last week's concert, we recognized the ability of EWF to cross not only generations, but cultures too. The music's Latin flavor electrified the Hispanic patrons enthralled with the band. The joint was swaying with Afro-Cuban beats, not surprising to EWF's multi-ethnic fans.

Folks 60 and 70 were rocking back and forth. A man sat while his wife danced. Then, on a reprise of "Boogie Wonderland,'' he jumped up and stayed on his feet until the encore.

The band bid us goodbye and left the stage, but we weren't having it!

They came back with more of the happy music we can never forget, "Fantasy,'' then segued into "Hearts of Fire'' and we were done, through, satisfied. They could go.

Verdine, however, was jumping up and down on the stage, and Phil said, "come on, jump, ya'll," until we joined in, feeling young again, like back in the '70s!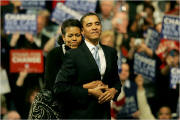 Photos of Joan Cartwright with B. B. King