Conference highlights powerful women
BY JOAN CARTWRIGHT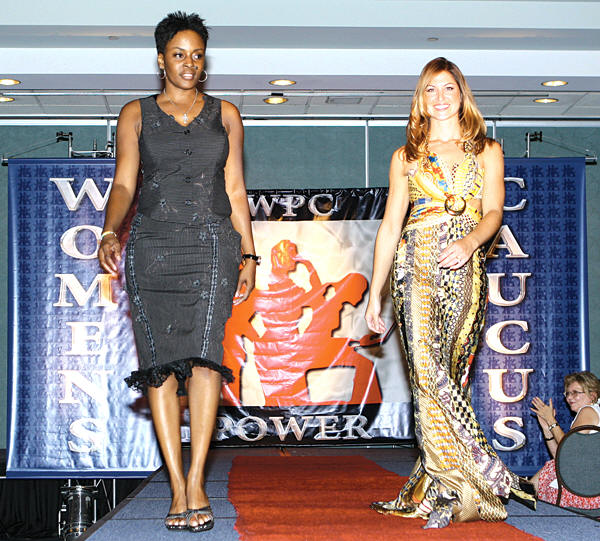 [FORT LAUDERDALE, August 31, 2007] Decked out in red dresses and suits, participants in last weekend's Women's Power Caucus watched top female executives from various companies and foundations strut their stuff in designer couture, business wear and lingerie.
On the runway were several powerful women, including Rosemary Jones of Turner Broadcasting, Juliet Venzara of the National Kidney Foundation of Florida and Sonia Green of General Motors.
Strutting their stuff on the political side were Miami Gardens Mayor Shirley Gibson, Liza Erazo of the Puerto Rican Chamber of Commerce and Liliam Lopez of the South Florida Hispanic Chamber of Commerce. These and other mesmerizing women took part in a fashion show that, along with a cocktail party, kicked off festivities at the Women's Power Caucus.
The conference, in its fifth year, was founded and produced by IN FOCUS Magazine president Woodie Lesesne.
The event took place Aug. 24 and 25 at the Hyatt Regency Pier Sixty-Six in Fort Lauderdale, offering two days of intense networking with movers and shakers and enthusiastic entrepreneurs.
This year's theme was "Moving from Good to Better to Best!"
More than 300 people packed the hotel's Panorama Room. There were people waiting for additional tables to be set up at the awards luncheon on Aug. 25, and all the tables in the conference room were filled with exciting and powerful women.
"Women power works!" Broward County Commissioner Suzanne Gunzburger told a group of women gathered at a panel titled, Political Power: Women Empowering Legislation.
Gunzburger, honored at the conference as a "Living Legend", said she's "loved politics since childhood because my family conversed about community issues over dinner."
She said political involvement enabled her to "speak out for others and take social action to help disenfranchised children and the elderly."
Other women at the panel included Miami Gardens Mayor Shirley Gibson, Davie Councilwoman Susan Starkey, Lauderdale Lakes Commissioner Hazelle Rogers, Coconut Creek Vice Mayor Becky Tooley, Hallandale Beach Mayor Joy Cooper and Broward Supervisor of Elections Brenda Snipes.
Each woman explained how she combined her personal journeys with politics. Each said politics allowed them to change things they didn't like about their communities in ways that they could not have done outside the political arena.
Cooper said, "Public service is my focus. But I taught my daughters to play golf to create good relationships with men. Ninety percent of women in sports are in leadership positions. In the world of business, women must seize opportunities. They must invite themselves to the table."
Rogers ran track and played netball in her native Jamaica before coming to the United States. First, she became engaged politically with the tenants association in her building in New York.
"When there was no heat," she said, "I became the spokesperson for the tenants. In Florida, I was the secretary for my homeowner's association."
Today, she is the only woman on the Lauderdale Lakes Commission. Her advice to women is "stay true to yourself and learn to communicate well with others."
Tooley said that she never listened when people told her she wasn't qualified for a political position. "Women's clubs,'' she said, "were very supportive in my campaign."
Women gathered at several other panels listened to powerful speakers, including psychologist Dr. Priscilla V. Marotta, author of Power and Wisdom: The New Path for Women, who is engaged in helping women reach their full potential.
At a panel on career and personal power featuring Marotta, Greta Davis of Time Warner, Inc. and moderator Holly Richardson, Richardson told the story of a young woman who triumphed over several setbacks in her life. Among those setbacks was multiple sclerosis.
Her story was not only moving but encouraged all women facing difficulties. Some women in the audience were moved to tears by the story of Hannah, which actually turned out to be Richardson's story.
The final panel, What Women Need To Know and Men Won't Tell You, included Tony Lesesne, co-publisher of IN FOCUS Magazine; Windell Paige, CEO of WP and Associates; Nelson Santiago, Ph.D, regional manager of Solusoft; and Al Otero of the International Business Council of Florida and Strategic Alliance Partners.
Each man offered concise solutions to problems faced by women in business. The main topics they addressed were: how to close a deal, not over-selling your product or service, protocol while traveling in foreign countries, and using your personal power and communications skills when dealing with businessmen.
Santiago said he admires "a woman's insight. Men must be open to women's intuition."
He said men find it difficult to "handle platonic relationships and misinterpret signs that lead to misunderstanding the relationship. If a woman feels the business relationship is not proper, she should end it. The key to business is knowing whom NOT to do business with."
Paige said, "Men work from a hierarchy downward with themselves at the top, whereas women work for the common good, something men need to learn how to do."
He also said, "There's a thin line between assertiveness and aggression. Women must not oversell their products or services, or badger clients but use courteous persistence."
The Quiet Storm Achievement Awards Luncheon on Aug. 25 highlighted the achievements of businesswomen and executives at some of South Florida's most effective foundations.
"The final word," said Woodie Lesesne, "in all human relationships there must be LOVE!"
Photo by Sayre Berman. Juliet Venzara, right, the National Kidney Foundation's South Florida regional director, models a beautiful creation designed by Jacinta Ligon, left.
Last Updated (Friday, 31 August 2007)
ARCHIVED ARTICLES
Sculpted Natalie Cole struts
in Fort Lauderdale
BY JOAN CARTWRIGHT
[FORT LAUDERDALE, October 17, 2007] The Au Rene Theater at the Broward Center for the Performing Arts in Fort Lauderdale on Wednesday was full of grateful fans of the daughter of America's most beloved balladeur, Nat King Cole. She paid homage to her father and those who crooned before her, including Ella Fitzgerald and Count Basie. But let there be no doubt, this woman is grown and deserves all of her own accolades.

Eight-time Grammy Award-winning singer Natalie Cole is a song stylist.

Opening with the song made famous by the sultry vocalist, Peggy Lee, Cole and her rendition of Fever lit up the stage as she strutted her stuff in a flaming red and orange sequined mini dress with spaghetti straps that showed off her cut and definitely well-trained figure.

At 57, Cole made me and lots of other women in the audience want to run to the Pilates center.

The musicians were tasty from beginning to end. Drummer Robert Miller played brushes in a call and response pattern with Cole on Fever, letting me know that he is about accompanying her rather than showing off his chops. James Manning on bass played as steady as could be, while guitarist Samir's accompaniment added dynamic flavor.

On the keys were Terrence Martin and Gail Deidrick, both switching from their respective synthesizers to the
six-foot grand Steinway piano that, as Cole put it, "took up most of the stage."

Cole gave one loving song after another.

"Wow!" the audience said, after Better Than Anything, recorded by Cole with Diana Krall. This swinging waltz featured a guitar solo and highlighted the voices of two female background singers.

Michael Frank's Tell Me All About It was a samba.

Cole told the audience, "Whenever a girl sings a song made popular by a guy, it's always better!" It was. She sang in "whispers, never shouts," as the lyric goes. It's a pleasure to hear a mature sister scat the tradition on a new song with a soft guitar in the background.

From her PBS show, We Love Ella, Cole performed her version of A Tisket A Tasket that proved jazz lives!
Then, she made a smooth transition to blues, which she said she'd been singing since age 11. She reminisced about the jazz vocalese group Lambert, Hendricks & Ross that wrote lyrics to Count Basie's Fiesta In Blue that she said, "to enjoy this, you gotta really, really be depressed.

But as the 7-piece ensemble walked through these blues, Cole's mezzo soprano voice mimicked that of Annie Ross with "women carryin' on like women do."

When the music modulated to the next verse, Cole made it clear that "tears are the only thing it's good to lose," assuring us that "you don't have to try to get in the door. Just have to cry to get in the door. A little Count'll do you good."

The mood mellowed when Cole sang Midnight Sun, composed by Lionel Hampton and originally sung by two divas, Ella Fitzgerald and Sarah Vaughn. The piano and synthesizers, along with the bass, guitar and more of the drummer's brushes created beautiful "music of the universe" to go along with the delightful lyrics of this song.

Cole paid homage to composer Charlie Chaplin, who gave the song Smile to Nat King Cole. At this point in the concert, I was forced to pay a compliment to the lighting technician, whose efforts enhanced every line of the song with colorful nuances that I noticed again and again throughout the concert.

This ballad featured lovely harmonies sung by the background singers, "making life still worthwhile," as Chaplin wrote, and the whistling audience concurred, proving my contention that Fort Lauderdale is truly a Jazz town.

The showstopper is always what the audience comes for and this one stopped us all. With a video of her father in the background, Natalie set out to grab us by the heartstrings as she traded lines with Nat singing America's most beloved song Unforgettable.

We may have seen this a hundred times on TV, but watching and hearing it live had us all humming. And the photos of Natalie with her father reminded me how wonderful it is to be "Daddy's girl."

The photos of Natalie with her father and other performers were so heartwarming that I had to stop taking notes and raise my hand in the air. It was beautiful.

In the audience were Cole's younger, twin sisters Julian and Timolin, who said Natalie "is timeless. She never ceases to amaze me." To them, Cole dedicated More Than You'll Ever Know by Michael Ruff.

"We always get personal," she said, before assuring the twins that she's always there for them. It made me wish I had a sister, but also made me grateful for my brother, Carlton. The musical interlude on string synthesizers conveyed the love Cole sang.

The looming Steinway begged for more romantic music and Cole conceded with Inseparable, making the crowd shout "Yeah."

MMJ, sitting behind me, screamed, "Sing, Girl!" and Natalie kept right on, "Like words to a melody of love!"

"For the guys out there," Cole tore up Mister Melody with Samir on Wawa guitar. She soared from this pop tune into This Will Be, with the crowd clapping a syncopated rhythm to "everlasting love" for Natalie, "love from now on."

MMJ screamed, again, "You go, girl!"

Slowing down, Cole breezed her R&B hit I've Got Love On My Mind, highlighting the vocal trio. It put us in the Club where we danced cheek to cheek, damn near grinding like ya know ya used ta do! They broke it down, groovin' just like the record. I had to stand up on that one.

Finally, there were songs from her latest CD, Leavin'. A breath machine, Cole covered Aretha's Daydreamin'. Martin traded vocal lines with Cole, back and forth. He said, "You're a love that stays on my mind."

She said, "It's all about you."

In the middle of the concert, Natalie stopped singing for a moment.

"I've got to say this,'' she said. "There's a lady sitting here in the first row, taking notes. I'm assuming she's a reporter for some journal and now, I'm nervous.''

I told her that she was doing great.

"Don't worry, just sing,'' I said. "I'll do the writing.''

divajc47@yahoo.com
RESPONSES TO THIS ARTICLE BY FANS
Hello, I am just writing you to express to you that I have just viewed you paper about the Natalie Cole show that you did your story upon and I wanted to express to you that it was WONDERFUL, but there was a mistake and that is that Natalie Cole does have two twin sister's, but the names of the twins are Timolin and Casey and you have noted in your article "Cole's younger, twin sisters Julian and Timolin."
Just letting you know.
What Ever You Do Just Do It With Style,
Emmanuel Carrie, MFT
Hey, Sister, Soul Sister: Patti LaBelle
in concert at the Hard Rock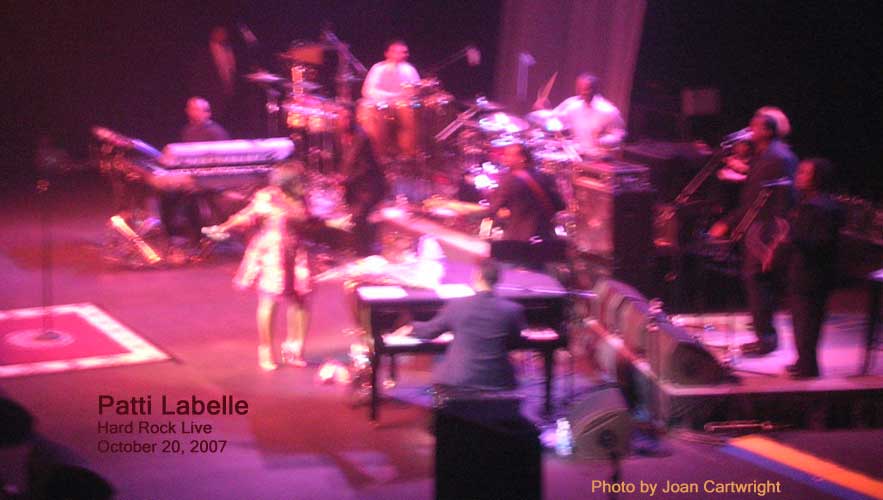 BY JOAN CARTWRIGHT
[FORT LAUDERDALE, October 26, 2007] Readers, we'll have to call for a new award, "The Patti," because there isn't one befitting the Queen of Song, Patti LaBelle.

Some say she screams. I say she throws her voice like a boomerang and gets a kick out of hearing it come back, more than we do.

A fan named Peter brought her 50 roses, one for each show he's attended, and he stood at the foot of the stage, limp like spaghetti as she sang, If Only You Knew to him during her Oct. 20 performance at the Seminole Hard Rock Hotel & Casino near Hollywood.

She's from Philly and she's OK with Peter's attentive pose in front of the stage. She tells security, who appears to be moving in on the infatuated fan, "Do not touch Peter or I'll have to pimp slap you!"

She's funny, cracking us up between songs that wipe us out. She changes high, high heels to sparkly pumps, after New Attitude, If You Ask Me To and an old standard, Let It Happen, recently recorded by Celine Dion, but written for French torch singer Edith Piaf, whose lover was killed on the way to see her.

She sings I Love You, On My Own and I Keep Forgetting, penned by Michael McDonald.

Flawless in a burgundy dress with crinoline underskirt, Patti flits across the stage like a girl. Her 63 years mean nothing, except when she asks for the fan because "I'm menopausal, hot, tired and taking insulin seven times a day for diabetes," she says, wiping her brow.

You can't believe she's older than Beyonce, Mary J. Blige or Macy Gray. She's skipping and jumping around, throwing kisses to the audience, and smiling into her looking glass, making us giggle.

Her crystal clear voice matches the harmonies of background singers, Debbie Ramsey, Anthony Williams and one other man whose name I didn't get. They're one, the four of them as the band, led by musical director John Stanley, jams from one memorable song to the next.

The audience is on its feet when Patti sings Reverend James Cleveland's Walk Around Heaven All Day, dedicated to her three sisters who died before age 44, of cancer; her mother, father and other artists who have passed on – James Brown, Pavarotti and Luther Vandross.

She sings, "When I get to heaven, I will jump and shout. No one will be able to put me out!"
You believe her. You know there'll be one huge party when Patti steps through the Pearly Gates.

"But," she says, "I'm gonna stay right here, until I'm 163! I'm not going nowhere. I'm gonna be here to motivate you, to make you see that, when you wake up in the morning, you have another day to live and be happy! Don't take that for granted."

Well, I don't know about anybody else, but I was depressed when I got to Patti's concert at the Hard Rock Café in Hollywood. I wasn't feeling good. But I was revived when she got through.

Bonnie Raitt wrote a song that really depresses me – I Can't Make You Love Me (If You Don't). I was in love with someone who wasn't right. I hated that song on the radio because it brought truth to my ears.

Ms. Patti makes it a testimonial that those who don't love you, when you love them, are missing out.
She makes it clear. "I get to the point that I don't care," she tells him. That's what being a song stylist means.

Then, she needs a rest. She walks over to the speaker at stage left and sits down, pulling her dress up, slightly, to tease the audience. Her show never stops. We love it!

A man walks up and hands her money. Some men in the audience shout, "Take the money, Patti!"

Counting it, she says, "It's one thousand dollars," while the man tells her that his mother died of diabetes. Elated, she walks across the stage, stuffing the cash into her bosom.

Then, she says, "I'm doing a benefit in Philly, on Thursday. I'll give this money to the cause."

She throws kisses to the man, who is returning to his seat. She yells, "Thank you!" to him.

The band breaks into a vamp as Patti kicks off the sparkly pumps, singing "whoa, whoa, whoa, the power of love!"

She picks up flat shoes from the top of the grand piano, puts them on and continues to bounce around the stage like a teenager. She's introducing the band, praising their virtuosity. "I want you to meet my background singers who are always as good as the person they're backing, but haven't had a chance for stardom, yet."

Debbie Ramsey is in the spotlight, singing I'm Going Home To Meet My God, the song that Ramsey sang at the going home service of Patti's sister. Ramsey's voice is robust and we're electrified. Earlier in the show, Anthony Williams sang the duet, On My Own, which Patti recorded with Michael McDonald. Williams' rich voice filled the hall, too.

At the end of this segment, Patti introduces her guitarist and bassist, bringing them out for a solo.
It's time for her signature song, Lady Marmalade and the crowd is on its feet, again. Here's where the fun begins. She calls to men brave enough to come onstage to dance and sing with her.

"But you better be able to sing. If you can't, I'll cut ya!"

We scream with delight.

Four men come up. She hands the phone to Michael, a white man, and says, "Sing!" He manages to get a couple of notes out. She says, "Can you dance?" He nods and starts steppin'. We're saying, "Hey, he can dance!"

Next, is Dan, who takes the mike and sings to Patti, "I'm in love!"

She's impressed and dances with him, hugs him and moves on to the brother we know is from the hood because he's wearing jeans, a sports shirt and a cap. She tells him to sing, begs him to sing, but he just can't. "I don't know what to sing," he cries.

"Can you dance?" she asks.

He says, "Yes," and starts doing the butterfly. We are rolling.

She says, "Oh, you can dance. Why didn't you tell me that in the first place?" We roar!

Finally, a tall brother in a jacket with a scarf around his neck tells her he can definitely sing. Patti warns him that he better sing or she'll cut him, cracking us up. He does sing. He shouts. He's got her riffs down pat.
She's satisfied and so are we.

"Voulez vous coucher avec moi, ce soir? Creole Lady Marmelaaaaaade!"

Each man gets a hug as the fan blows Patti's dress up in the Marilyn Monroe style.

"I've recorded so many songs over the past 30 years," she announces [70 albums].

"This song, I'll Stand By You is from the Pretenders. Carrie Underwood sang it, in 1994. I recorded it on Classical Moments [2005] and I dedicate it to our troops, whom we want to come home, safely."

That's it. She walks offstage. Of course, we know something is missing. She comes back with little fanfare because she knows what we are waiting for. In her unmistakable style, Patti LaBelle reminds us to remember to dream with Somewhere Over The Rainbow, the song that Judy Garland made famous, but Patti has made her own.

Then, it's over. What are people saying as they leave the hall? "It was too short."

That means we must see the Queen Diva the next time she graces the stage in South Florida or wherever we may be when she performs.

Divajc47@yahoo.com This e-mail address is being protected from spam bots, you need JavaScript enabled to view it

Photo by Joan Cartwright. Patti LaBelle