| | |
| --- | --- |
| Jill Scott grooves at the Hard Rock | |
BY JOAN CARTWRIGHT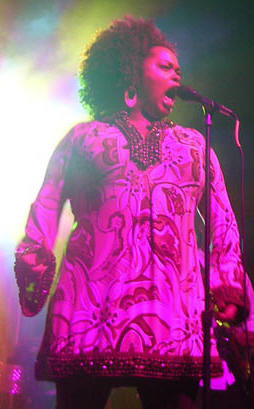 [Hollywood, FL - October 26, 2007] Jill Scott is changing the face of women around the world!

She sings neo-soul and neo-jazz, but the truth is, she's got fluff enough to give a man all the stuff, "Whatever you need...fish and grits...whatever, whatever, baby," according to her song.

She's Beautifully Human, and those who attended the Baileys Get Together concert inside Spirits night club at the Seminole Hard Rock Hotel & Casino near Hollywood know this.

That's why they lined up outside the club for her show on Friday, Oct. 26.

Baileys Irish Cream Liqueur, which touts itself as the No.1-selling cream liqueur in the world, has partnered with the multi-platinum selling, Grammy Award-winning artist for a series of fall tour dates.
The 2007 Baileys Get Together with Jill Scott kicked off in Houston on Oct. 23 before coming to the Hard Rock.

The next stop was Atlanta on Oct. 29; followed by Charlotte, N.C. on Nov. 1; Baltimore on Nov. 4 and Philadelphia, Scott's home town, on Nov. 5.

At each concert tour stop, consumers age 21 and older get a chance to enjoy the smooth sounds of the DJ, then have their picture taken with friends, before an evening performance by Jill Scott.

A 10-piece band featuring its own horn section adds a powerful backup to Scott's vocals.

Janice Boursiquot, a Broward community activist who attended the Hard Rock show, said, "I was really surprised how many men were in the audience. One woman standing by me knew all the lyrics to every one of Jill's songs."

Fort Lauderdale City Commissioner Carlton Moore, who attended the Hard Rock show, said on the following day, "Jill's show, last night, was a blast!"

Aside from the persona of a strong-willed, well-built black woman, Scott has vocals that are superb, even "Golden," like the name of her hit song.

She had an operatic moment that took us by surprise. At the meet and greet after the show, I asked her with whom she studied opera.

"No one," she said, "I listen to Kathleen Battle."

If she keeps this up, she'll cross over to the Metropolitan Opera!

She's already taken over the silver screen as Sheila in Tyler Perry's latest film, Why Did I Get Married? featuring Scott's soundtrack, The Real Thing.

Onstage, she has formidable presence, "Deeper, sweeter, higher, fire!"

She has no use for those who "Hate on Me. I do me," she contends. "I'm not afraid to be open wide."

She keeps in mind the biblical scripture, "No weapon formed against me shall prosper."

Early on, "I realized that ... people … are gonna be haters. That never affected me," she says, "until I started noticing it, seeing that …family, friends… were angry to see me revealing my blessings, wishing they were me. I had to let go of some people in my life because of that. It's been healing for me to say I'm still gonna be me, to say … 'go right ahead, whatever you say won't change my destiny.' We spend too much time 'hating' the hater. If I'm meant to shine and glow, I will."

She does glow, really! She's a powerhouse, a brick house, all in one, who is, according to her, "taking my own freedom, wherever I choose to go. Living my life like it's golden, golden."

Scott really got my attention when she sang the blues. She reached back to her roots in North Philadelphia, where the music was, is and will always be.

Philly is the city where John Coltrane, Lee Morgan, Patti LaBelle, Teddy Pendergrass and Gamble and Huff made their music first, and Scott follows the tradition, busting loose with a style that will not be denied.

Born April 4, 1972, Scott has the same impact of another April-born diva, Billie Holiday (April 7, 1915), who penned the lyrics to God Bless The Child. Scott's own lyrics echo Holiday's message, and she's here for the long haul.

Immediately after the concert, Scott joined club patrons on the dance floor, shaking her booty with them for almost an hour. I stood in the V.I.P. section, watching her as she started the Electric Slide.

In less than two minutes, the entire floor of dancers was sliding in unison. It was phenomenal!

This woman is a leader, a force, and she's got many fans.

I asked Scott what comes after Perry's film. She said, "The #1 Ladies Detective Agency, a movie directed by Oscar Winner Anthony Mingella," who also directed Cold Mountain (2003) and The English Patient (1997), for which he won best director.

In 1998, Scott did poetry sessions at Philadelphia coffeehouses. In 2000, she toured with the Canadian cast of the musical Rent and with the rap band The Roots, going almost non-stop for a year.

By 2001, she was a Grammy winner, as best new artist, for Who Is Jill Scott? Words & Sounds Vol. 1. Also, she was nominated for a Grammy for R&B album and R&B female vocal for her song, Gettin' in the Way.

This year, Jill Scott's 10th Grammy nomination was for her collaboration with legends George Benson and Al Jarreau, God Bless The Child on Hidden Beach/Universal Records released in January, 2007.
Other awards Scott has won are Soul Train, NAACP Image Awards and Brit Awards.

Christine Williams, a beautiful, ebony, full-figured sister standing next to me by the stage, before the concert, said, "I love her. She's a wonderful artist."

Divajc47@Yahoo.com.

Photo by Joan Cartwright. Jill Scott

Last Updated ( Friday, 2 November 2007 )
ARCHIVED ARTICLES


Queen Latifah relinquishes Hip Hop
for Jazz and Blues
BY JOAN CARTWRIGHT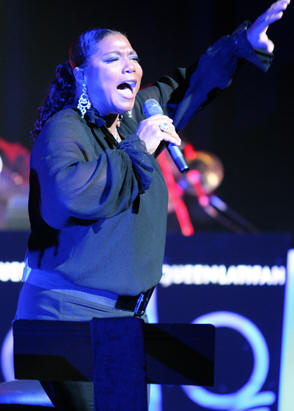 The tall, tom-boyish Hip Hop princess in a baby blue track suit walked into the small restaurant in Greenwich Village, New York City, with her father the night I sang with famed tenor player Lou Donaldson at the Village Vanguard.

Never did I dream that this young lady would grace the stage of the Raymond F. Kravis Center for the Performing Arts in West Palm Beach several years later, singing jazz standards.

But Queen Latifah has made the shift from rap music to jazz and blues, and it is Simply Beautiful!

Her nine-piece band consists of two brothers in the rhythm section on acoustic and electric bass and drums, two keyboardists, a percussionist and three horns – flute/sax, trumpet and trombone.

Born Dana Elaine Owens on March 18, 1970, Latifah (which means "gentle'' or "kind'' in Arabic) proves that tradition continues among great African-American song stylists. The three background singers, Mayana, Charlotte and Romeo, are exquisite! They never overshadow Queen's lead, but they blow dynamic riffs, when she presents them.

Queen opened Wednesday night with I'm Gonna Live Till I Die, in the big band flavor used by stars like Natalie Cole, Liza Minelli and Barbra Streisand.

She followed with an all-time favorite, I Love Being Here With You. Then, she asked permission to sing a blues song titled, Baby Get Lost, causing me to ask "Is she Bessie Smith or Ethel Waters reincarnated?"

"I'm taking you on a "musical journey," she describes it, when she calls for the band to play it "funky" on Why You Wanna Make Me Cry?

"Now," I think, "this girl is doing a musical revue!"

After getting Derrick to rip the funk on his electric bass, she calls Mad Money Mike out to jam on his guitar.

Then, she introduces her CD, also the title of her tour, Trav'lin' Light. She does breathy covers, including the beautiful ballad, Georgia Rose. On the CD, Stevie Wonder plays harmonica. Onstage, the muted trumpet solo is real music to my ears! The song is a tribute to black women. Queen sings to them, "Don't be blue 'cause you're black!"

Next, she sings the airy title tune Trav'lin' Light, featuring the trombonist, pianist and keyboardist on string ensemble that was as free as a breeze.

From her recent film, a remake of Hairspray, she sang I Know Where I've Been. The lyric says she has "Pride in my heart 'cause I know where I'm going and I know where I've been." This song succeeded in doing what it was written to do, "Lift us up to tomorrow."

Plugging Cover Girl, the Procter & Gamble cosmetics line that hired Latifah as its spokeswoman, the consummate celebrity – who starred in the movie Beauty Shop – stops to freshen her lipstick, saying, "I sing that song so hard, my lips get dry!"

During every show, she "must say something silly and funny because life is too serious as it is."

Then, she brings her dad, Lance Owens, onstage. He welcomes the West Palm Beach audience and thanks us for supporting his daughter. Queen thanks him "for making me!"

We get a kick out of that as she talks about the next song, which passed "the Mommy Test." When her mother, Rita, heard Poetry Man, she liked it. Dana says, "We cool like that!"

It's obvious that she's comfortable onstage and we're comfortable with her. Of course, there are those fans that she calls "Hip Hop Heads" who want to hear her rap. But she doesn't go there because, after all, she's Trav'lin' Light."

Her ballads are soft and pretty, especially Phoebe Snow's beautiful composition Poetry Man, featuring the background singers. Latifah's voice is breathy, as her keyboardist smoothes everything over with the string ensemble.

I'm wondering "where is the hip hopping teen that rose to the top of the charts like a big, bright balloon?"

Then, my brother, Carlton, who joined me at the concert, reminds me that "she's a movie star" and I get it. She's diverse and universal!

Behind me, a lady named Lola wants Queen to sing U.N.I.T.Y., the Grammy Award-winning hit song from Queen's 1993 Black Reign Hip Hop album. The song famously denounced the B-word and demanded respect for all women, helping to establish Queen as one of the top female Hip Hop artists of all time.

But on this night, Queen doesn't do U.N.I.T.Y., or any other rap song. Instead, she breaks into Mercy, Mercy, Mercy by Cannonball Adderly, a real stretch from Hip Hop! Now, the light show has caught my eye and I'm appreciating the lighting technician.

Queen says, "We've done some jazz, blues and funk for you. But, West Palm Beach, can we get soulful with you?"

People scream out, "Do Marvin Gaye!"

She stops short and asks, "Who ya'll come to see?"

There's laughter as she and Romeo, the male voice in the background, break into Al Green's Real Love.

Each singer takes a solo. Romeo is phenomenal, Charlotte can "sang!" and Mayana's soprano riffs are "simply beautiful!"

Latifah declares their virtuosity and assures us that she is "100 percent natural."

And she is. There's no pretense. You know they've rehearsed because the music is meticulous with harmonies indicative of what black music is, "simply beautiful."

Then, she takes us for a loop. She introduces her next cover, California Dreamin'. If Poetry Man didn't take us back to flower children and peace signs, this song surely did. This classic, written by The Mamas and The Papas, was recorded and popularized by guitarists Jose Feliciano and Wes Montgomery.

Latifah claims the song with her classic voice and artistic band, joined by one of South Florida's jazz icons,
Cuban trumpeter Arturo Sandoval, whose style is a cross between Dizzy Gillespie and Maynard Ferguson. It is moments like this that authenticate younger artists in pursuit of jazz melodies. This was a bit of history happening before our eyes – a moment you'd say, "You had to be there!"

Sandoval jammed with the horn section, while Latifah played the bongos. The crowd loved the mix. Latifah made the Peace sign on each hand, thanked the musicians and us for letting her "live her dream, onstage" and exited stage right.

We called her back, not expecting what was in store. I was surprised and I know that Carmen McRae, who sang this song years ago, and Johnny Hartman who recorded it with John Coltrane, were smiling down from that big bandstand in the sky.

The song was Lush Life, and her version was simply beautiful, convincing me that Queen Latifah may be a novice in jazz, but she knows where many of us have been and, definitely, where she's going.
Divajc47@Yahoo.com
Photo: Queen Latifah, shot by Sayre Berman.
Last Updated ( Friday, 9 November 2007) www.BrowardTimes.com
WOMEN IN JAZZ SOUTH FLORIDA, INC.