Bobby Jones' gospel retreat in Broward
BY JOAN CARTWRIGHT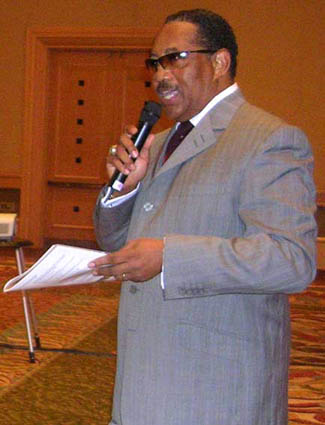 Gospel celebrities recently convened in South Florida, bringing a wealth of talent and knowledge to the 21st Bi-Annual International Gospel Industry Retreat with Bobby Jones.

Invitees were mesmerized by a live performance from Jones and his entourage of musicians and background singers.

The focus of the conference on Nov. 19 and 20 at the Westin Diplomat Resort & Spa in Hollywood was threefold: How technology impacts the ministry; careers in the performing arts and entertainment industry; and plans for the historical groundbreaking of the Dr. Bobby Jones Gospel Complex for Education & Preservation to be built in Lauderhill by 2010.
The Gospel Complex is expected to bring together the rich history of gospel music in one central location, according to its website, www.gospelcomplex.org.

Gospel music is ingrained in American culture, but unlike other music genres, gospel does not have a place to house its artifacts, memorabilia, historical documents and recordings, the website states. The gospel complex is expected to become such a place.

Jones released his new CD, The Ambassador (Zomba Records, Sony) on Nov. 18 at Nova Southeastern University in Davie. The beautiful set was designed by award-winning Interior Decorator Cecil Hayes.

Joining Jones onstage were notable gospel singers Kim Burrell and J. Moss. The evening opened with a video welcome from Kirk Franklin, who was not able to attend.

On the panel was a Who's Who of distinguished gospel personalities and promoters, including singers
Kim Burrell, Betty Wright, Donna Harris of the Whitfield Singers, and the Williams Brothers.

Students from Boyd Anderson High, Ely High, Stranahan High and Smart High schools as well as Eagle Charter Academy School attended.

Also in attendance were Florida Memorial University, Savannah State University and Nova Southeastern University students.

Panelists encouraged the hundreds of students to be encouraged and stick to their studies.

Musician Derrick Lee said, "Listen to what God has for you and continue to pursue your education."

According to Jones, "We sing so well, but don't know what we're singing about."

He said secular artists with "gold teeth, pants down, sing insulting songs about women. We're presenting you with men and women on the other side."

Jackie Patillo said "Music is the universal language and gospel is the sound of heaven. She called Teddy Riley the "Vision Catcher with his ear to the street."

Songwriter V. Michael McKay, who has written hits for Yolanda Adams and other top gospel singers, said he writes "commercially viable products that the public will buy."

Cedric Caldwell has produced Bebe and Cece Winans (Heaven), Whitney Houston (Jesus Loves Me from The Bodyguard that sold 40 million copies), Johnny Mc-Kirkland, T.D. Jakes, Darwin Hobbs and Karen Clark-Sheard. He said his company, Legacy Records produces "pretty music."

He emphasized the importance of producers "staying on deadline and budget."

Caldwell gave a historical overview of recording technology, from the 78 record in 1943 to the vinyl LP recorded on two sides, to the cassette tape that could be played in your car or Walkman.

He talked about the 8-track tape in 1968, and moved on to the compact disc (CD) in 1992, to the present-day hissless DVD, mp3 and IPod.

Jones discussed the benefits of the digital sending of songs to an entire audience and the "curse of this technology being used in the wrong manner and negatively impacting music sales."

He said that music lovers should not just "download music for free but should continue to purchase music."

"All music is hurting, today," said concert promoter Al Wash, who has promoted Kirk Franklin, Yolanda
Adams and Sisters in the Spirit. "That's why I'm involved in other projects like plays – Ain't Nothin' Like Family written by Tyler Perry and Jazz and Comedy with Sinbad."

Radio personality Jeff Grant, whose career began as an English teacher, became an executive with Warner in the urban music/gospel genre. Grant emphasized that "there is so much good music out there and competition for ratings requires that an artist's single has to be right."

He said a recording "must touch the heart," referring to songs like We Fall Down by Chris Tomlin.

Telisa Stinson, known for her behind-the-scenes work with Be-yonce, said that those who work in the industry "must have patience and passion. It's good to be important, but more important to be nice."

Greater Fort Lauderdale Con-vention & Visitors Bureau Vice President Albert A. Tucker said he is welcoming ideas and suggestions from the public about the Gospel Complex that is coming to Broward County.

Tucker may be reached at 954-767-2456 or 800-356-1662 ext. 2456.

Contact the Gospel Complex for Education & Preservation at 954-494-7596 or email them at info@gospelcomplex.org

DivaJC47@Yahoo.com
Photo courtesy of Joan Cartwright: Bobby Jones addresses people at his retreat.
Last Updated ( Friday, 30 November 2007 )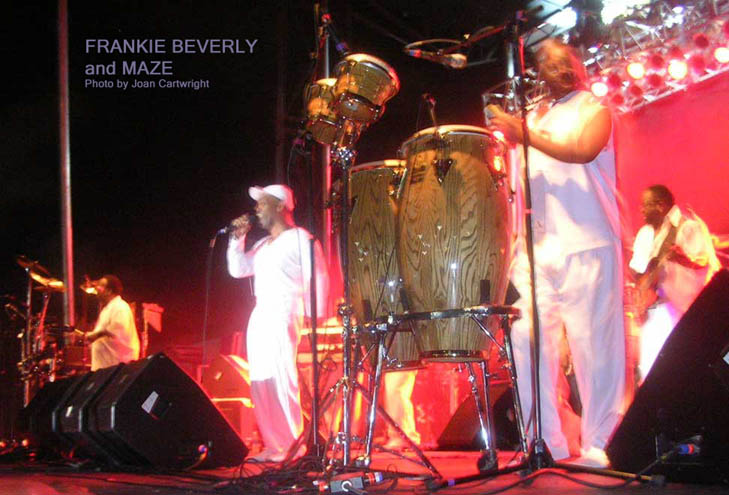 ARCHIVED ARTICLES


BY JOAN CARTWRIGHT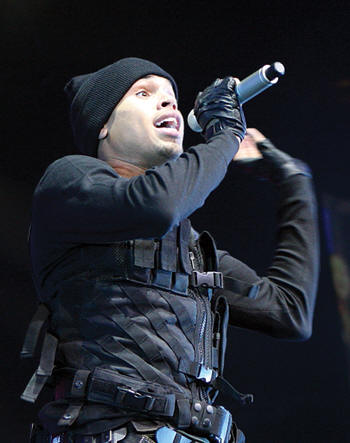 Animation, a hologram and pyrotechnics added lots of excitement to the powerful choreography that made Chris Brown's show at the BankAtlantic Center in Sunrise a memorable event.

The event was packed with screaming teenagers whose obedient parents got them concert tickets as a Christmas gift.

The show began at 6 p.m. Dec. 26, with rapper Bow Wow opening. By 7:30 p.m., he had brought on three Hip Hop legends who got the audience to their feet.

DJ Khaled, a producer and disc spinner on Miami's 99-JAMZ radio station, shared the stage with Fat Joe and Rick Ross.

The four men generated predictable teenage mayhem, as Bow Wow announced, "I have a house in Miami," which made the girls yelp even louder.

I remember in my teens learning of a report that revealed the presence of a chemical in 12- to 14-year-old girls that causes them to get extremely agitated when a musical idol is onstage. The Beatles were the first to cause scientists to study this phenomenon. It was at the Apollo in Harlem that I had this experience for the first time, when Shep and The Limelights came out singing, "Daddy's Home."

Today, it takes more than a song to arouse teenagers, and Brown's production crew was on the job. The din from the crowd made it difficult for the uninitiated to understand most of the lyrical content, but the animation that opened the show cleverly conveyed the songs' titles. Brown was about to "Kiss Kiss" a beautiful animated girl, when a text message warned him that "Haters Are on the Way."

Bringing the video to life in Ninja-like fashion, two attackers wielded huge swords at Brown one at a time.
He managed to divert them, but one of them got the girl and took her up a flight of stairs, inside a spaceship where a foreboding entity took hold of her, stating, "No one gets in!"

This was followed by an elaborately staged rescue scene with the adorably handsome Brown, of course, as the girl's rescuer.

The show went on for over an hour with one theatrical gimmick after the next, enhancing each love song
Brown had for the "single ladies," including his hits "With You" and "Take You Down."

What attracted me most were the images of musicians on screens at the back of the stage that were all
Brown in different clothing, playing keyboards, bass and congas. There was a real drummer, however, who never missed a beat.

DJ Khaled took over with cuts from "the eighties" while Brown disappeared. While Khaled had the audience dancing to the beat, Brown reappeared with a group of colorfully clad break dancers. The dancers wowed the crowd with Brown clearly in his element, spinning on his back on the floor.

The show also included two 9-year-old rappers, Myles and Smooch.

A rumor that Bajian pop singer Rihanna was in the house was verified when she sang in the hologram, something about an umbrella that Brown twirled during the performance.

When DJ Khaled took over for a few moments, Brown and two cut male dancers did their thing on a turntable-like stage at the back of the arena, driving the young ladies crazy with their sensual gyrations.

At this point, the heat from the fiery torches onstage, the clamor from the screaming fans and the loud blasts from something Brown was throwing like hand grenades made this reviewer call it a night. While making my exit, I overheard folks saying Brown and Bow Wow will perform together. I'm sure this worked out well for the concert-goers whose parents were waiting patiently outside.

I'm satisfied that I've gotten a glimpse of what this generation considers the best of the best in entertainment.

Divajc47@yahoo.com

Photo by Sayre Berman. Chris Brown