Diva JC, your energy is touching everyone on earth with love, music and by being who you are Joan - a Leader, a woman who is able, no matter the obstacles, to turn her dreams into realities. - Judy Joy Jones
"She is the best; she is naughty and nice!" -- Noreen Charlton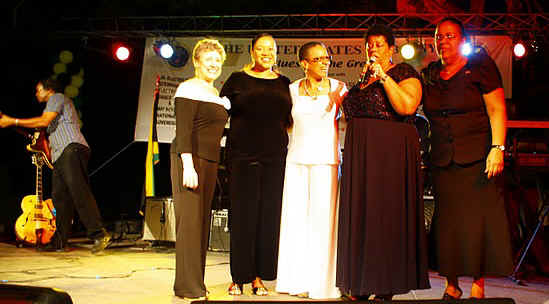 [February 27, 2010 - Kingston, Jamaica] [Photo by Kimroy White]
Marcia Rowe, The Gleaner
The setting was ideal, lush green lawn and towering trees against the backdrop of a full moon. And on the wings of cool breeze rode the aroma of some of Jamaica 's popular dishes, light chatter from the audience and the sounds of blues being played by the band. It was a splendor marred only momentarily by technical glitches.
The occasion was the 18th staging of the US Embassy's Blues on the Green, A Celebration of African-American Month, held last Friday, at the Hope Botanic Gardens . The large turnout of diplomats and Jamaicans were fitted with fine food and drinks, before taken on a ride of bluesy ecstasy.
Soulful and romantic
After some formalities, such as the playing of the national anthems of both Jamaica and the US ; a welcome by the new US Charge d'Affaires, Isaiah Parnell, who was introduced by outgoing public affairs officer, Patricia Attkisson, the entertainment component of Blues on the Green began.
Leading the charge of performers was the featured guest artiste, American blues singer Joan Cartwright, a/k/a Diva JC. Launching into Let The Good Times Roll , Diva JC made her intentions known. She was soulful and romantic in I Just Want To Make Love To You , spiritual in I Got My Mojo Work and risqué in her popular song I Do Not Want Nobody's Husband , and somewhere between told the audience "blues is about men and women making love or not making love".
On her mission to "rename and refame jazz music", her decree was evident.
"She is the best; she is naughty and nice," said patron Noreen Charlton, a Blues on the Green regular.
Hi Joan:
I know that you will be very pleased after reading the review of Blues on the Green that appeared in today's leading local newspaper The Gleaner. So many people are smiling "from ear to ear" because of it, and I am ecstatic because you excelled and all of my hard work and long hours paid off handsomely! You are delightful and fun to be with. It was a pleasure meeting and being with you. You are definitely in a class by yourself. I wish you the very best in the future.
Warm regards,
Angella E. Harvey
Cultural Affairs Specialist
American Embassy
Kingston 6, Jamaica, W.I.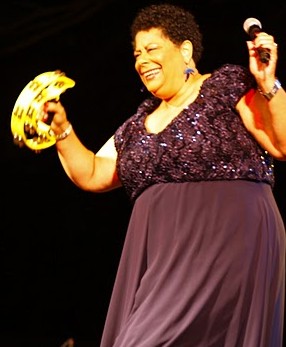 Joan:
Good night, this is Kimroy, the young man who took some of the photos at the event Blues on Green at Hope Gardens. Some photos are at this link. I really enjoyed this show, I didn't want to leave but I had to as my girlfriend was ready, but I stayed for your performance and got some great images to show. Hope you like them and thanks for coming to Jamaica. Please, we ask that you return and I will try to get me a front row ticket to come take your picture. This was my first blues event and you just gave me a great start. Wish to have a CD with your songs. Where can I purchase this?
Kimroy White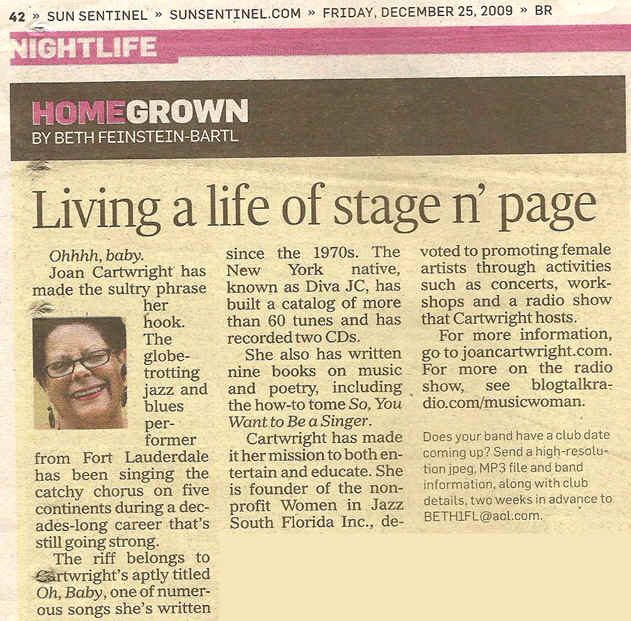 2/13/06
Joan, you are a force of nature! I would love to be there, soaking up all that culture! -- RG

2/6/08
Great stuff!
This cd is great. Top notch stuff! The Dr. Lonnie Smith tracks are just an added bonus!!
Linda Dachtyl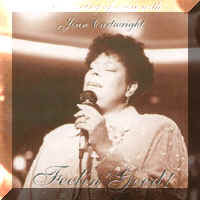 1/30/08
I absolutely love your "Feeling Good!" CD.
YOU ARE A JEWEL!

Jeff /CallaStyle

8/10/07
The Grande Dame "Diva Joan Cartwright" is by far the most amazing woman I have met in my relatively young years - - - being that it is probably my fourth or 8th time around this planet! Joan is a beautiful soul who has an extraordinary talent - She sings the blues, jazz and is a web diva - THE BEST! THE BOMB! She has been an amazing friend to me and has spoiled me as I hope I have spoiled her sustaining one another in times of need indeed. Joan is a Queen and those of you who do not know her; make sure you do.
Vanyan Nègès VIII/X/VII (c) Danièle Mangonès

5/1/07 - IN PURSUIT OF A MELODY
I really have to say that I completely loved your CD! It crosses Racial boundaries, age and its just uplifting! I really enjoyed the mixture of musical genres. The dance tracks and retro mixed in the history of jazz influences. It was brilliant. I know a legend. After listening to your CD and your band I was like I have met a legend! It was similar to like a musical buffet for the senses! Well done.

4/23/07

1/22/2007
Watched the other videos from the new link (I've already done the website ones, including the art gallery) and you seem to be an amazing performer/woman - I wish we had someone like you here in the UK!!

I've never been a big internet user until now, but looking at how you promote music/arts as well as your performances through the internet, your network is a great example of how to do it....fantastic!. I do consider myself small fish/a freshman in the pond, however, I can really relate to your passion, and appreciate your work, knowing that, if I had your knowledge, time and spare funds I would want to do something very much on the same line...

"Big Respect" JC, the more I learn about your work, the more I am convinced you are really living the love of music sincerely and I take my hat off to you!!

Love your version of God Bless the Child, the Scat Session and what you do with youngsters etc.... - forget it, no point naming titles to prove I've listened/watched, its all great!!.

Take it from me, I don't BS - Tried to get your book via Amazon, no luck. I do intend to go back to your site to sort this as soon as get the time.

Sincerely, Love and Music Rules!

Ava Golding
GET JOAN'S BOOK AT TRAFFORD.COM



January 22, 2007 - Message from Cola Rum's mother to JC. . .

Feelin' Good (Sept 2006)
Reviewer:
Segula Entertainment - (Joan's European Agent)
Hi Joan, when I hear your songs it feels like: As deep as the ocean as its waves, so calming and nice. Feelin' Good!!!

Great music from a great lady! (August 2006)
Reviewer: Salena
Joan's voice is so soothing and bluesy. I had the pleasure of buying this CD as well as her others while in Shanghai this summer. Her shows are great and she even gives shout outs! I would encourage everyone to buy her music: it mellows you, it soothes you, it tantalizes you!
July 2006

Joan is one of the most authentic entertainers in the business
Reviewer: ericwyatt
Joan has one of the most entertaining shows you can see live. She keeps the audience involved and is REALLY GREAT TO WORK WITH!! The cd is a Must Have!

4/7/06
Joan Cartwright The Grand Dame of Jazz - Joan's new recording, In Pursuit of a Melody could be the very best recording to be released in 2006. I have always referred to Joan Cartwright as the diva. Well, Joan is certainly one of the most talented singer songwriters in the business, she can hold her own with the very best. - Miss Sandra Kaye

3/2/06
Hi Joan,
It was such a pleasure meeting you at the play and I look forward to us getting together soon. I absolutely loved your CDs. I will have to get more copies (autographed I hope) to share with a few friends. I am getting an early start on my Xmas gifts this year!
GMH


2/18/06

I have listened to Joan Cartwright's CD and it's excellent. Everyone in the office thought so too.

[Available at CD Baby]

R.V., Brighton, England


A trip around the world in sound!
Reviewer: bobby barber
This is a musical voyage of where we have been and where we may go; it captures the time we live in and validates our emotions. Mo' power to you home girl!

Joan Is Outrageously Wonderful!!
Reviewer: Sandra Kaye (click for website)
This recording could be the very best one to be released in 2006. I have always referred to Joan Cartwright as the diva. Well, Joan is certainly one of the most talented singer songwriters in the business, she can hold her own with the very best. This recording however shows her talent to the ultimate and you are going to love it. Remember, I told you so.

This record is Hot! Something for every age to enjoy
Reviewer: Lynne O
Only a mad woman or a genius could put together such diverse elements while maintaining the high quality of the music... A very interesting project, this. The samples definitely left me wanting to hear more. Joan is a smooth Jazz vocalist with an R&B flava to her sound. She's also a hot mama hipster hanging out with her outrageously talented cutting edge hip hop diva daughter. You go ladies! The band is hot-the tracks are clean. What more can I say? Good work - knock' em dead y'all!

9/18/04
Hey Girl

I love the website, I knew it would be great because I know you. The most impressive point being, it's informative, attractive, educational and done for us by us no pun intended. It's tops!!!!!!
TWK

8/26/04
Diva Joan Cartwright,
I was just recently in Atlanta, GA and visiting my brother RAY BROWN, whom you know. I heard you for the 1st time and it blew my mind. "Feelin Good" is smoking, you can truly claim to be a "DIVA."
Why aren't you recording and releasing more? It's been too long since "Feelin Good" came out, have you released anything since? Have you appeared out here on the West Coast?
We have a 24/7 Jazz&Blues station, KJazz/88.1fm that you should send a CD to so that Jazz/Blues fans out here and around the world could get to hear you since KJazz is on the www.JazzandBlues.org.
God has blessed you and you should share that blessing with as many people possible and us Jazz/Blues fans out here on the West coast would sure appreciate hearing a true DIVA.
Peace my beautiful AFRICAN-AMERICAN DIVA, hope you will soon release more "Smokin'" CD's.
Ray Brown my Brother, says "hi", he still living in Atlanta.
Dan Dudley


Great interpretations!
Reviewer: Tom Burt
Joan Cartwright's, Feelin' Good CD, truly demonstrates what Jazz-Vocal interpretation is all about. Quite obviously, Joan, is in a class by herself as she makes each song her own here. There is no doubt about it...one of today's Jazz greats...Bravo!

Thanks, to my fans!
Reviewer: Diva Joan Cartwright
I want to say, "THANK YOU!" to CDBaby.com for promoting my CD and to all the people who've purchased my CD and those who have written reviews. Truly, this CD has enabled me to help thousands FEEL GOOD! and I AM GRATEFUL. My new CD, IN PURSUIT OF A MELODY will be available very soon on CDBaby.com

GREAT CD!!!! Keep Feelin' Good Joan, you make everyone feel GREAT!
Reviewer: Mimi Johnson / CAUSTIC DAMES (click for website)
The Caustic Dames have Feelin' Good in rotation! Listen to Jazz Meets HipHop every Thurs to hear Joan featured on The Caustic Dames single release URBAN COMMANDO!!! JAZZ MEETS HIPHOP @ www.dr-love.com Every Thursday, USA, Eastern Time from 4pm - 6pm and BUY IT! JOAN GOT US FEELIN' GREAT!!!!


Reviewer: K. A. Clarke
Feelin Good swings and is full of life thanks to the emotive vocal artistry of Ms Cartright and her wonderful accompanists.I definitely recommend it as a fine example America's Only Classical Music: Jazz.
great!
Reviewer: franklin gaskin
hey joan I was listeniing to the cd and I love it. You did give me a cd and i let someone here it and NEVER got it back! but hopefully i'll be able to get anothher when I get there and we can go over the material and maybe get some gigs there in the Atlanta area I'll keep listening as the days go by between now and then and hope to have a good grasp on the tunes. ciao

Absolutely spectacular I listen to it often while painting or back ground music
Reviewer: Christine Velez Stone
very inspirational,makes you want to get up and swing dance. I love the rthym the beat is jumping and Joan's sense of humor and witt comes dancing through the speakers to you and yes she also sings the blues in such a way that you actually lament for a moment or two, but then she comes through with insirational strength, and sensuality. Thank you Joan love it, love it, love it!!!

Joan Is Out Of Sight!
Reviewer: Sandra Kaye
I Love "Feeling Good" Joan has a sound that is like no one else, mature and sexy with lots of charm and sophistication. Joan is also one of the finest songwriters alive. The personnel is among the best musicians in the business. The whole CD is like coming to a night club performance and feeling happy you came. That's why I love "Feeling Good" Just one listen and you will love "Feeling Good" too.