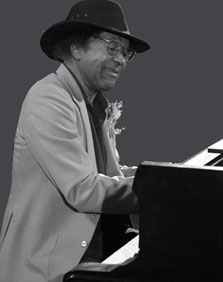 Freddie Redd that is consummate improvising keyboardist/composer whose original score on Blue Note for Jack Gelber's searing play "The Connection" reverberates eternally down the marble halls of the charmed school of indelible jazz, thanks to Freddie's bewitching melodicism. . .More, , ,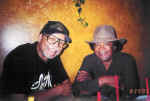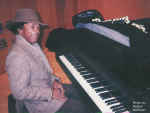 Friday, February 16, 2007
MARY'S HOT PICK by MARY HUHN
February 16, 2007 -- IN 1960, Freddie Redd (pictured), a bebop pianist and actor, created the music for the "The Connection," a controversial play about junkies. The artist, who has played with legends such as Art Blakey, Sonny Rollins and Charles Mingus, acted and played piano in the show in and here. New York-born Redd, who settled on the West Coast, returns to the city for "Reconnected: The Freddie Redd Quartet with Donald Harrison" at Merkin Concert Hall at Kaufman Center, as part of its "Re-Issue: Classic Recordings Live" series.
The quartet includes alto saxophonist Donald Harrison, 43, who's known for creating "nouveau swing" style (he's filling in for the late Jackie McLean), bassist Mickey Bass and drummer Louis Hayes. Also featured is Lou Donaldson, a 79-year-old sax player from the swing jazz era. WGBH radio's Steve Schwartz will interview Redd onstage. While Redd has continued to perform around L.A., he hasn't had an instrument to compose or practice on for decades. The Kaufman Center will present the 78-year-old with a Korg 01/WFD keyboard, which was donated to the Kaufman Center by Lesley Gore. It's everyone's party.
By WILL FRIEDWALD
February 16, 2007
The surprise off-Broadway hit of the 1959–60 session was a drama with music in which both halves of the equation — the play, the music, and the way they complemented each other — were completely unlike any other production before or since. This was "The Connection," a wildly successful, avant garde theater piece that eventually led to an equally far-out experimental film, two all-time classic jazz albums, and, this Monday, a concert at Merkin Hall featuring the original music as played by the original composer-performer, the pianist Freddie Redd.
In 1959, "The Connection" was the brainchild of Jack Gelber, an aspiring playwright who had the brilliant idea of concocting a unique theatrical experience around the idea of drugs and jazz. But rather than stage a traditional narrative on a theme of addiction and redemption, as had been done before (most famously in the best-selling novel and film "The Man With the Golden Arm"), Gelber had the innovative idea of creating a play in what he regarded as a "jazz style," in which actors played characters who continually interacted with the audience as well as with each other.
There was a plot — a bunch of junkies wait around in an apartment for their connection to show up, as if he were Godot or the Iceman — but the most important facet was the "solo"-like fashion in which each character got up, one by one, and seemingly improvised an entire philosophy. The four main characters commented and riffed on each other like a bassist and a drummer trading fours. Much of the dialogue was carefully worked out, but other moments were spontaneous. When the jazz critic Ira Gitler attended a performance, the actors buzzed about a famous reviewer being in the house. Everything about the play was radical: the subject matter, the way black and white actors interacted as equals, the use of four-letter words, and the acknowledgement of other taboo topics ("Leach is a queer without being a queer — he even thinks like a chick!").
Of the four primary performers, one, Gary Goodrow, had also played tenor saxophone professionally, and another was an actor playing a musician who was incapacitated because he had hocked his horn to buy junk. Mr. Redd came into the picture at the recommendation of Mr. Goodrow, who was a friend and Lower East Side neighbor. At the time, Mr. Redd had played all over the jazz and rhythm-and-blues scene and recorded several albums for the Prestige and Riverside labels. Mr. Goodrow introduced him to Gelber, whose original idea was to have a jazz group on stage playing standards and familiar tunes.
Mr. Redd came with two brilliant ideas. First, as he recalled in a 1988 interview, "I told [ Gelber] that I wanted to write an original score. He said, 'Hey listen, if you can write this music, fine, you've got it.' I went home and I started writing. I did the play for 17 months."
Second, he brought his old friend from his native Harlem, the great bebop alto saxophonist Jackie McLean. Unlike Mr. Redd, who had never experimented with anything harder than marijuana, McLean was slowly weaning himself from a long heroin habit; the show proved a lifeline for both men, who were unable to work in jazz clubs at the time due to previous violations of the cabaret code. McLean's presence also attracted the attention of Blue Note Records, which recorded the score in 1960, as well as two additional albums by Mr. Redd. (There even was a "cover" album of "Music From the Connection" by the trumpeter Howard McGhee on the Felsted label, featuring Mr. Redd under a pseudonym and the tenor saxist Tina Brooks replacing McLean.)
Another of Mr. Redd's innovations was to score the production with bright, even cheerful modern jazz; almost anyone else would have tried to come up with something dark, heavy, and melodramatic (as Elmer Bernstein did in his famous film score to "Golden Arm"). Even though most of the seven selections Mr. Redd wrote for "The Connection" are in minor keys, graced by McLean's distinctive intonation, this is upbeat, joyous music: "Sister Salvation" is one of the few march tempo jazz tunes to pick up the gauntlet thrown down by Benny Golson's "Blues March"; "Music Forever" is a memorable melody equally inspired by "My Shining Hour" and "Sleep." Even "O.D.," which accompanies the climactic scene, in which the "Leach" character is given an extra dose of junk and nearly dies, is far more peppy than morbid. Still, as Mr. Gitler, who annotated the original album, pointed out to me recently, "There is often an underlying angst mixed in with an undeniable romanticism." That's why Mr. Redd's marvelous music still makes all of the emotional connections it did back in 1959.
RECONNECTED: THE FREDDIE REDD QUARTET
In the late 1950s, the pianist Freddie Redd wrote music for "The Connection," a landmark Off Broadway play in which he also appeared onstage. Released on Blue Note, the subsequent album became a hard-bop classic, though that didn't prevent Mr. Redd from slipping into obscurity. He resurfaces here with the bassist Mickey Bass and the drummer Louis Hayes; Donald Harrison inherits the alto saxophone part memorably played by Jackie McLean, who died last year. Another alto saxophone veteran, Lou Donaldson, appears in the concert's first half. At 8 p.m., Merkin Concert Hall, 129 West 67th Street, (212) 501-3330,
Kim Smith
Public Relations
718 858 2557 (t)
917 349 8090 (m)
ksmithpr@earthlink.net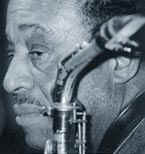 LOU DONALDSON

DONALD HARRISON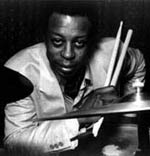 LOUIS HAYES

MICKEY BASS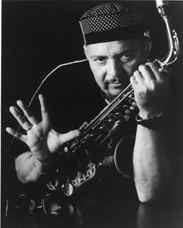 JACKIE MCLEAN