FOR IMMEDIATE RELEASE
Saturday, June 30, 2007
The Making of "AMERICA IS FOR US ALL" (RELEASE DATE: JULY 4, 2007)
[Fort Lauderdale, FL] A two-song compilation by Melody Cole, Joan Cartwright and Eugene Grey will be released on July 4, 2007. It will include Cole's song "America Is For Us All" and Cartwright's composition "Love Translation" recorded at Grey's Tropic Isles Studio, during the month of May 2007. The CD was manufactured at Alpha Records, Inc.
On April 19, 2007, guitarist Eugene Grey and his wife, Felicia attended Joan Cartwright's presentation of WOMEN IN JAZZ as a part of the Pan African Bookfest, at the African American Research Library and Cultural Center in Fort Lauderdale, Florida. Ms. Cartwright has given this program, since 1997, to over 6,000 students in Florida, China and Japan.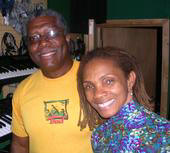 The last song of the presentation, LOVE TRANSLATION, was written by Cartwright, in 1999, to relax the hundreds of students (Grades 3-12), at the end of each exciting performance that engages children in singing. This song is so relaxing that many of the teachers sent Joan letters and emails stating that the students were actually yawning and very quite immediately following the presentation. Eugene approached Joan about recording the song.
The following weekend, on Sunday, April 22, Joan met Melody Cole at the Miami Pan African Bookfest. They bonded immediately because Melody is a pianist and Joan's new book, launched just that week, is entitled IN PURSUIT OF A MELODY! So, the two musicians were off and running to collaborate on some projects. When Grey suggested that Joan come to his Tropic Isles Studio, she invited Melody, who is Jamaican-born, like Eugene.
The result of the unity between this musical trio is heard on the new release: AMERICA IS FOR US ALL with two versions of the title tune - solo by Melody Cole and duo with Eugene Grey singing harmonies; and LOVE TRANSLATION with the "Spirit Mix" sung by Joan and played by Melody on piano; and "Reggae Mix" with Eugene's special guitar riffs added.
Cartwright is the founder and executive director of WOMEN IN JAZZ SOUTH FLORIDA, INC., a non-profit dedicated to promoting women who compose and perform jazz and blues music. Since their collaboration, Cole and Cartwright have established the WORLD MUSICIANARIES NETWORK to publish their works. All three musicians are on the roster of CUE JAZZFEST and Music Conference.
Enjoy this lovely compilation of a patriotic anthem and a universal song of love!
Hear all the songs:
Contact: